Application.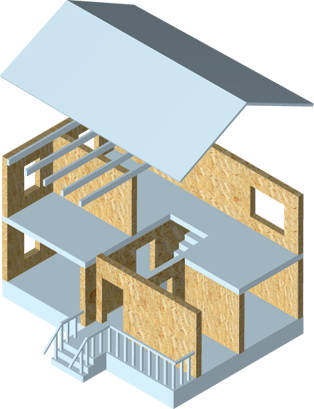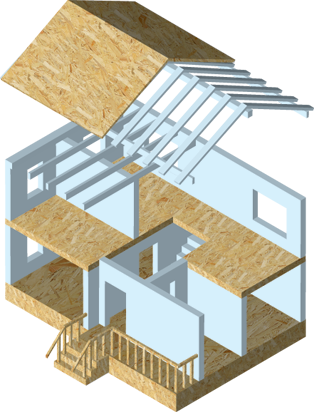 Unique physical and mechanical properties and development of manufacturing technologies let portray OSB as one of the general construction materials for building as well as materials for furniture and packaging industries.
OSB has become especially popular in producing roof and wall sandwich panels for skeleton-type house building. Its application reduces the time of building and at the same time making it more accurately.
OSB is used for constructions, where transfer of load to lengthwise bearing (for example, trussing and beams) is necessary.
Thus, OSB can be applied as a bearing base for flexible tiles, roll materials and seam roofing. For application of heavier coverings, such as ceramic and cement-sand tiles, OSB becomes a surface of wind bracing, which means that load is reallocated along the surface of the board. OSB-3 is widely used for mounting of solid roof sheathing. OSB-3 is listed in the recommendations of the manufacturers of flexible tiles in Russia.
General fields of OSB application
Sheathing of partition walls
High strength and resistance to deformation make possible to apply OSB in combination with multiple types of exterior and interior lining coating.
Base for roof coverings
Such properties as lightness, sound absorption, rigidity and capacity to withstand heavy snow and wind loads make OSB suitable for application as a base for roofing materials. OSB ensures high pull-out resistance of screws, which increases reliability of roofing materials.
Supporting joists and floor coverings
OSB is used in building for construction of supporting surfaces (such as solid coverings and bearing joists). For lightweight building constructions OSB is used as basic flooring, with application of self-leveling lightweight concrete mixture or under flooring boards.
I-beams
High quality supporting OSB constructions prevent displacement and deflection; I-section contributes to the solidity properties, which rank I-beams together with concrete and reinforced-concrete constructions.
Furniture and packaging
OSB is used for production of the components of high-loaded furniture frames as well as for production of packaging: crates, boxes and containers.
FSC certification of OSB
The enterprise passed the certification test under FSC system for compliance with the standards of FSC-STD-40-004 "Standard for Chain of Custody Certification" and FSC-STD-40-005 "Standard for Company Evaluation of FSC Controlled Wood".
Nowadays the wood processing mill Kalevala is one of the greatest domestic manufacturers of oriented strand board (OSB).

SHARE